BINDING AND LOOSING
Mat 18:18 Verily I say unto you, Whatsoever ye shall bind on earth shall be bound in heaven: and whatsoever ye shall loose on earth shall be loosed in heaven.
Isa 55:11 So shall My word be that goeth forth out of My mouth: it shall not return unto Me void, but it shall accomplish that which I please, and it shall prosper in the thing whereto I sent it.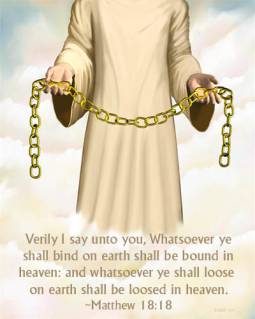 Cast out any doubt the devil tries to put in your mind.
Cast them out. Cast them out.
Know from this hour, that whatever you bind on earth is bound in Heaven.
Whatever you loose on earth is loosed in Heaven.
Know that it shall be done.
I gave you the power, through My spirit, through My name.
I gave you the keys use them.
The Word is in your heart, speak what is written
and see it come to pass.
My word can't return void. Speak it by faith.
Keep your eyes fixed on Me.
I make intercessions for you and the Father hears My prayers.
Today is the first day of the rest of your life.
I shall say to you again… whatever you bind on earth is bound in Heaven.
Bind Satan, cast him out.
Know your power.
Nothing shall be able to resist your power.