CRY IT OUT
Ps 34:17 The righteous cry, and the LORD heareth,
and delivereth them out of all their troubles.
Ps 18:6 In My distress I called upon the LORD, and cried unto My God:

he heard My voice out of his temple,
and My cry came before him ,even into his ears.
Psa 107:19 Then they cry unto the LORD in their trouble,
and he saveth them out of their distresses.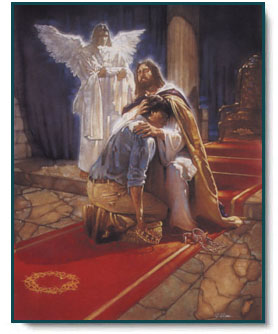 Cry it out before the altar. Cry it out.

Yes, you have cried, yes, you will cry.

Cry it out before the altar.
I will not allow you to have just anything in your life.

You have suffered too much for the anointing thatís on your life

to have just anyone in your life.

I refuse to let you have just anyone in your life.
I cry when you cry. You will cry, cry it out this night.
You donít have to settle for just anything.

I want only good and perfect for you.

You have a costly anointing upon your life.
Cry it out. I will purge you of it.

Cry it out before the altar this night.
Much is required, but you are willing, so willing.

I will give you much to do; you do it with gladness, with much gladness.

I do much through your hands, it amazes you.
Keep your eyes on Me as you walk the straight and narrow path.

You walk in Me. You live in Me.

I will never leave you, never forsake you.
Continue to praise Me.
I inhabit your praises.
***The Lord ministered this word of comfort to my spirit after I broke off my wedding engagement . When we chose to walk with the Lord, He is concerned about every area of our lives and who we have in our lives. He made me very much aware of this when I thought I was going to marry my high school sweetheart. (see the story of "DEAD WEIGHT)