THE RED SEA
Ex 14:13-16 And Moses said unto the people, Fear ye not, stand still, and see the salvation of the LORD, which he will shew to you to day: for the Egyptians whom ye have seen to day, ye shall see them again no more for ever. The LORD shall fight for you, and ye shall hold your peace. And the LORD said unto Moses, Wherefore criest thou unto Me? speak unto the children of Israel, that they go forward: But lift thou up thy rod, and stretch out thine hand over the sea, and divide it: and the children of Israel shall go on dry ground through the midst of the sea.
Ex 14:21-22 And Moses stretched out his hand over the sea; and the LORD caused the sea to go back by a strong east wind all that night, and made the sea dry land, and the waters were divided. And the children of Israel went into the midst of the sea upon the dry ground: and the waters were a wall unto them on their right hand, and on their left.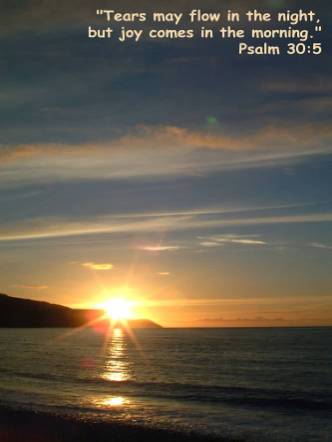 Youíve come to a place in your life where you canít turn around,
and you canít see how to go forward.
Youíre at the Red Sea of your life.
I have not brought you this far to leave you
I brought you into the wilderness and I will lead you out.
Lift your head high and praise Me.
Praise Me until the Red Sea in your life opens.
Walk, walk on through. Do not be afraid.
Lo, I am with you always, even until the end of the earth.
I will not allow the waters to overtake thee
Be not afraid, I am with you
I am your God. Use what I have given you.
Walk on, I am waiting for you.