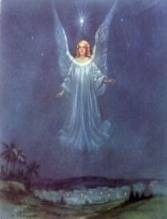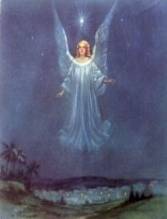 BE STRONG IN THE LORD
God is commanding us to trust Him.
Don't be afraid He is with us not matter what our circumstances.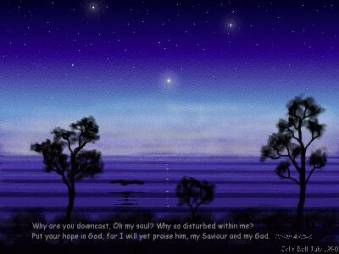 FRUSTRATED?
Scripture readings: Joshua 6:20, 10:12-14, Mat 18:18-19
Yes, I heard you. I know you are frustrated. You didn't do anything wrong.
Stop that. You examined your heart, and repented. You exercised your rights in binding and loosing.
You even stood with a friend in praying in agreement.
You took your mind off of the problems and started praising me, continually.
You have been faithful.
Yet the problem is still there. I AM getting ready to the impossible in your life.
Just as the sun and the moon stood still for Joshua to fight his battle, I will deliver.
Just as the walls of Jericho came tumbling down, I will deliver. I will show up on time.
I shall show you my power once more. Nothing is too hard for Me.
Your change will come. It is your time to be blessed.
ARE YOU READY TO BE BLESSED?

WINDOWS OF HEAVEN




Scripture readings: Mal 3:10, Psalm 23:5

Stop trying to figure everything out, and ask Me.
The windows of Heaven are opened unto, all you have to do is ask.
I wait to shower you with an abundance of blessings.
Blessings that will ignite your joy, and spark the faith in your friends.

You sowed a harvest of tears, now I want you to reap the fullness of Joy.
Your harvest is ripe and it's your time to pick what you want.

Oh look at you, your cup is running over, you don't have room enough to receive it all.
Don't forget; when you are this blessed don't forget to pass it on.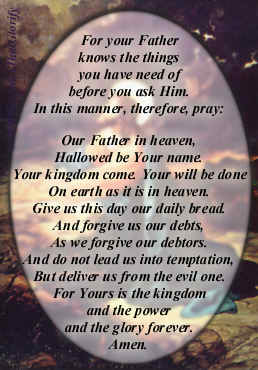 TRUST IN ME
Scripture reading: Jeremiah 1
My precious child,
Who do you listen to the lies? Why do you allow them enter into your spirit? Start trusting the gifts that I gave you; use what I have blessed you with. Stop doubting yourself. The enemy is trying to convince you that you will fail. If he can do this, he will have victory over you, not only you, but those that are to be blessed by you. Don't allow him to rob you of your blessings.
I know you may feel insecure and insignificant, and at times as inexperienced as a little child. Believe in me. At this moment I AM healing you of this mindset. I AM going to place you in a position that demands more than you think you have to give.
I know you already feel like you are being stretched. I AM giving you these challenging assignments to break the confinements caused by your unbelief.
If I trust you, why can't you trust yourself? I created you, so don't you think I know more about you than you do?
Trust Me, you will come through this.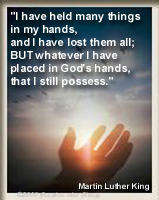 WHAT AM I GOING TO DO?
Scripture readings: 2 Cor 4:8-9, Heb. 13:15
(My soul is still rejoicing over this one)
Oh Father, Trouble is surrounding me on every side; yet,
you are keeping me from being distressed. I am so confused,
I don't know which way to turn, yet, You won't let me be depressed.
My family and friends seem to persecute me for no reason. Yet, You have not forsaken me.

I have been cast down, walked over, pushed aside. Yet, you have kept me from being destroyed.
So what am I going to do? I will tell you what I am going to do.
I am going to Praise You!

I am going to praise you, for all I am going through,

I am going to praise you, because that is what I am supposed to do.

I am going to praise you, because God with His love gave me you.
PRAISE YOU IS WHAT I AM GOING TO DO!
******************************************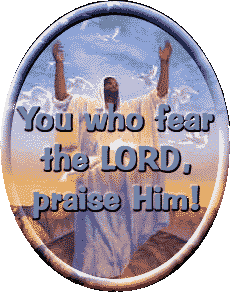 Give the Lord a sacrifice of Praise for all that He's has done for you.
Praise Him for keeping His hands on you while you are going through
Praise Him even though your circumstances and situations don't want you to.
Praise Him through the good and the bad.
Praise Him for teaching you to seek His face not His hands.
Praise Him and let the enemy know where you stand
PRAISE HIM, PRAISE HIM, PRAISE HIM!
COME ON CHURCH LET'S PRAISE HIM!


SHARED READINGS FROM FRIENDS:
(Thank you Jackie Collins for sharing)
THE WOODEN BOWL
You will remember the tale of the Wooden Bowl tomorrow, a week from now, a month from now, a year from now.

A frail old man went to live with his son, daughter-in-law, and four-year old grandson. The old man's hands trembled, his eyesight was blurred, and his step faltered.

The family ate together at the table. But the elderly grandfather's shaky hands and failing sight made eating difficult.
Peas rolled off his spoon onto the floor. When he grasped the glass, milk spilled on the tablecloth.

The son and daughter-in-law became irritated with the mess. "We must do something about Grandfather," said the son.
I've had enough of his spilled milk, noisy eating, and food on the floor. So the husband and wife set a small table in the corner. There, Grandfather ate alone while the rest of the family enjoyed dinner. Since Grandfather had broken a dish or two, his food was served in a wooden bowl.

When the family glanced in Grandfather's direction, sometime he had a tear in his eye as he sat alone. Still, the only words the couple had for him were sharp admonitions when he dropped a fork or spilled food.

The four-year-old watched it all in silence. One evening before supper, the father noticed his son playing with wood scraps on the floor. He asked the child sweetly, "What are you making?" Just as sweetly, the boy responded, "Oh, I am making a little bowl for you and Mama to eat your food in when I grow up." The four-year-old smiled and went back to work.

The words so struck the parents so that they were speechless. Then tears started to stream down their cheeks. Though no word was spoken, both knew what must be done. That evening the husband took Grandfather's hand and gently led him back
to the family table. For the remainder of his days he ate every meal with the family. And for some reason, neither husband nor wife seemed to care any longer when a fork was dropped, milk spilled, or the tablecloth soiled.

What I've Learned
On a positive note, I've learned that, no matter what happens how bad it seems today,
life does go on, and it will be better tomorrow.

I've learned that you can tell a lot about a person by the way he/she handles three things:
a rainy day, lost luggage, and tangled Christmas tree lights.

I've learned that, regardless of your relationship with your parents,
you'll miss them when they're gone from your life.

I've learned that making a "living" is not the same thing as making a "life."

I've learned that life sometimes gives you a second chance.

I've learned that you shouldn't go through life with a catcher's mitt on both hands.
You need to be able to throw something back.

I've learned that if you pursue happiness, it will elude you.
But, if you focus on your family, your friends, the needs of others,
your work and doing the very best you can, happiness will find you.

I've learned that whenever I decide something with an open heart,
I usually make the right decision.

I've learned that even when I have pains, I don't have to be one.

I've learned that every day, you should reach out and touch someone.

People love that human touch -- holding hands, a warm hug, or just a friendly pat on the back.

I've learned that I still have a lot to learn.

I've learned that you should pass this on to everyone you care about.

I just did.

Be Blessed,
Shearon
chosen1292@gmail.com