TRUST IN ME... LET MY WILL BE DONE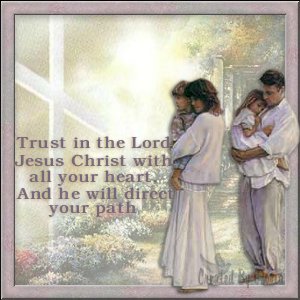 Pro 3:5-6 Trust in the LORD with all thine heart; and lean not unto thine own understanding.
In all thy ways acknowledge him, and he shall direct thy paths.
You are going through things you can't understand right now. You are going through things that don't make sense. You are going through things that challenge your faith in Me. You are going through things that have you asking why.
I have been teaching you to trust me; I have been teaching you to hear my voice. Don't allow others to entice you, to pull you away. I want you to put your trust in Me. I will be your bridge over troubled waters. I don't want you to continue to be on the outside looking in, I want you to be the center of My Will. Let it be said not your will, but Thy Will Be Done. Please take the time to stop and listen to what I am saying, take the time to write it down for remembrance. Remember the Book of Remembrance? (Mal 3:16) Write it down.
Remember I said I want you to sit at My feet, to spend time with Me. Do not be compelled to leave My presence, but dwell in it and together we will enjoy each other's company. I still need you to do that. Shhh, be quiet. Stop fighting against Me, stop worrying about it, it won't change anything, surrender to My will. Accept where I have you and watch how quickly I will move in your life. Focus on me and I will speak My heart to you.
Yes, it was me that led you to the wilderness; it's for a time of great preparation, my training ground. You say you feel all alone? I have purposely kept you set apart that I might have your full attention. You say you don't feel like you fit in? I moved that desire from your heart. You don't belong with the in crowds. I am placing you where I need you to be, all is being done according to My good pleasure. I will remove the desire completely and you will be set free to come away with Me into the secret place, into the Most Holy Place. I have destined you to move in great authority, but there is a time of preparation that is needed before I can release you into the full flow of the calling I have placed upon your life. You must stop, and be obedient to My will, to My way.
I am doing a mighty work in your life, but you must allow Me to do it. Do you want to move forward with Me? Then let My will be done in your life. Let Me have My way, Let Me move among you, Let Me open the doors. Let Me make the change in your life. Now is the time.
The Lord wants you to stop fighting against what you are going through, it is all for your good. Surrender to what God is saying to you and you will feel His peace. It may not be what you want, but it is what you need.
When we trust the Lord to give us the next step, when we wait patiently in humility upon Him, God will open door or close them, and you will get to rest and relax until He says, "Now is the time, Go", but we must TRUST HIM AND ALLOW HIS WILL TO BE DONE.

START OVER


When you've trusted God and walked his way when you've felt his hand lead
you day by day But your steps now take you another way
... START OVER .


When you've made your plans and they've gone awry,
When you've tried your best and there's no more try
When you've failed yourself and you don't know why
... START OVER .


When you've told your friends what you plan to do
When you've trusted them and they didn't come through
And you're all alone and it's up to you
... START OVER .


When you've failed your kids and they're grown and gone,
When you've done your best but it's turned out wrong,
And now your grandchildren come along
... START OVER .


When you've prayed to God so you'll know his will
When you've prayed and prayed and you don't know still ...
When you want to stop cause you've had your fill ... START OVER .


When you think you're finished and want to quit
When you've bottomed out in life's deepest pit
When you've tried and tried to get out of it
... START OVER .


When the year has been long and successes few,
When December comes and you're feeling blue God gives a January just for you
... START OVER


Starting over means "Victories Won" Starting over means "A Race Well Run"
Starting over means "God's Will Done" Don't just sit there ..............

START OVER

by Woodrow Kroll of "Back to the Bible"

DART TEST

A young lady named Sally, relates an experience she had in a seminary class, given by her teacher, Dr. Smith. She says Dr. Smith was known for his elaborate object lessons. One particular day, Sally walked into the seminary and knew they were in for a fun day. On the wall was a big target and on a nearby table were many darts.

Dr. Smith told the students to draw a picture of someone that they disliked or someone who had made them angry, and he would allow them to throw darts at the person's picture. Sally's girlfriend drew a picture of a girl who had stolen her boyfriend. Another friend drew a picture of his little brother. Sally drew a picture of a former friend, putting a great deal of detail into her drawing, even drawing pimples on the face. Sally was pleased with the overall effect she had achieved.

The class lined up and began throwing darts. Some of the students threw their darts with such force that their targets were ripping apart. Sally looked forward to her turn, and was filled with disappointment when Dr. Smith, because of time limits, asked the students to return to their seats.

As Sally sat thinking about how angry she was because she didn't have a chance to throw any darts at her target, Dr. Smith began removing the target from the wall. Underneath the target was a picture of Jesus.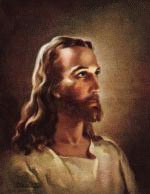 A hush fell over the room as each student viewed the mangled picture of Jesus; holes and jagged marks covered His face and His eyes were pierced. Dr. Smith said only these words: "In as much as ye have done it unto the least of these my brethren, ye have done it unto Me."
(Matthew 25:40). No other words were necessary; the tear filled eyes of the students focused only on the picture of Christ.

Author unknown.

DEAR CHILD

I just wanted to remind you today of how beautiful you are because there is a father of lies who will try to deceive you. He will try to tell you that you are not good enough, not attractive enough, not thin enough, not strong enough, not smart enough, not righteous enough, and that you are simply unimportant to Me.

He will try to tell you that you have broken one too many promises, that you have fallen one too many times, that you have lived one too many lies, and that you've been going in the wrong direction so long that it is pointless to turn back now. But guess what?

YOU DO NOT BELONG TO HIM. HE IS NOT YOUR FATHER. I AM.

You see, you are My creation. My workmanship. You have been borne of My thought, every part of you placed together by My hands. You have My thumbprint upon you. You are a princess, did you know that? You are My child, the child of THE King!

I look at you and see a precious, priceless pearl. There is no ocean I would not swim, no mountain I would not climb, no price I would not pay to have you and to be with you and call you My own. I already have.

I have done all that I could, given all that there is. I desire to be with you every moment of every day. How I long for you to talk to Me every day. My love for you never grows cold. My promises are never broken (contrary to what he might lead you to believe). My character never changes. And you, my child have been made in My image.

I love you dearly, unconditionally and completely. I understand every emotion that you have. I've been there. I count every tear that you cry. I know every hair on your head. And do you know what?

I even know your weaknesses and your failures and your fears. I know those hidden parts of you that you wish would go away. Those dark corners of your world that you stuff deep down, praying that no one will ever see. I have
already seen them and they will not change my love for you. Nothing will.

I love your heart and I desire all of it.

I just wanted to remind you today of how beautiful you are and how precious you are to Me.

With Unmeasurable Love,
Your Heavenly Father
(Author Unknown)




Be Blessed,
Shearon