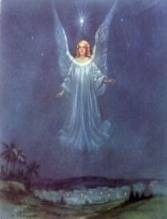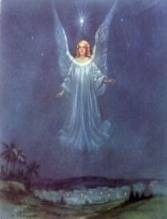 Publisher Shearon Hurst www.wherepeacefulwaters.com Issue 33 Dec. 04, 2003

GREATEST GIFT OF ALL
Scripture reading: John 3:16
During this whole busy season how many times do we stop to reflect on the one to whom this season is supposed to give reverence? How many times do we thank God for giving us the GREATEST GIFT OF ALL? Do we teach our children that Christmas is the day that we Christians celebrate the birth of Jesus, or are we teaching them that this is the season to see how many gifts are under the tree?

Yes, Christmas is the season for giving, for God so loved the world that He gave His only begotten Son. God didn�t have to search the net for a gift, or bid on E-bay, or stand in long lines fussing with our fellowman. He didn't even have to save all year for that special gift. No, what God gave us came from His heart. He gave us love, He gave His only Son.

Oh how God loves us, what a heart He has. He sent His 'only begotten Son' to this earth 2000 years ago, to live as a man to know the hurt, the poverty, and the pain that you and I do, so that through His suffering we would have the right to life, and to have it more abundantly. He lived a spotless life, and was crucified so that we could live without sin and one day live with Him eternally.

This is what we should teach our children when we talk about what Christmas means. With a healthy knowledge of why we have Christmas, they won't lose sight of Jesus being the reason for the season. If we teach them while they are young they won't let the rush and bustle of the holidays get them depressed and into a frenzy, making them buy more gifts than they can really afford, and having to spend the next year paying off debts, like we do. Have a blessed Christmas.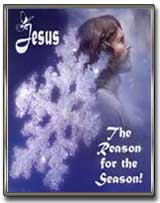 "Searching for the 'Perfect Gift'

It was the week before Christmas. Parking spaces were hard to come by. There were long lines, crowded stores, rude people, and grossly inflated prices. In one long checkout line, one man was heard to say, "They should kill the guy who started Christmas." One wise and godly woman in the line said, "They did, they hung Him on a cross." Therein lies the REAL Christmas story.


What Would You Do If Jesus
Sandra Thompson

What would YOU do if Jesus walked into your home on Christmas day and joined you for His Celebration of His Birthday? Would He really feel like the Guest of Honor? Would He even feel welcome in the midst of your celebrations? Would His heart be glad and joyful and be so glad that He was able to come and actually join you at His party? Would it be possible that the King of kings and the Lord of lords who gave His very life for you would feel grieved on this His birthday? He did come with the greatest Gift possible for you, didn't He?

As He walked into your home would He wonder about all the presents for everyone else but Himself? Would He see closets full of clothes and toy boxes already stuffed with almost more than they can already hold and now more is under the Christmas tree? Would He find your tables filled with food far more than you could actually eat and surely more than you need?
I read these words in my Bible and they have been brought to my attention this Christmas season. These are words that will be spoken on the day that Jesus returns for us and He will say.

"Come, you blessed of My Father, inherit the Kingdom prepared for you from the foundation of the world. For I was hungry and you gave Me food, I was thirsty and you gave Me something to drink, I was a stranger and you brought Me together with yourselves and welcomed and entertained and lodged Me. I was naked and you clothed Me, I was sick and you visited Me with help and ministering care, I was in prison and you came to see Me." (Matthew 25:34-36)

Then we who claim to be Christians will say to Jesus "When did we do these things for You?" Jesus will say, "Truly I tell you, in so far as you did it for one of the least of these in the estimation of men, you did it for Me!? (vs 40)

What do these verses say to you? Is Jesus Birthday not a wonderful time to remember the poor, the needy, the sick, the prisoners? This seems to be Jesus heart!

What if Jesus would walk into our homes on Christmas and find us with rejoicing in our hearts as we carry gifts and food to the poor and needy? It doesn't seem to make any difference in the age of the person, very young or the old, but somehow when we reach out to the poor and needy with our hearts, not our heads, joy unspeakable fills our hearts. That is because we are doing just what Jesus would do if He were here!

Jesus is with you and will He be pleased with the way you celebrate His day this Christmas?

For those who work on Christmas Day :
Lord. As I spend today going about my work, help me to put aside any bitterness that I'm not celebrating at home with loved ones. I ask you, Loving Father, to give me a special sense of your presence as I meet people, that I may shed on them the light of the Bethlehem Star, the Spirit of Christmas. Amen.

"The Night Before Jesus Came"
by EDWARD M. GIONEST
'Twas the night before Jesus came and all through the
house, not a creature was praying, not one in the house.
Their Bibles were lain on the shelf without care
In hopes that Jesus would not come there.
The children were dressing to crawl into bed,
Not once ever kneeling or bowing a head.
And Mom in her rocker with baby on her lap
Was watching the Late Show while I took a nap.
When out of the East there arose such a clatter,
I sprang to my feet to see what was the matter.
Away to the window I flew like a flash
Tore open the shutters and threw up the sash!
When what to my wondering eyes should appear
But angels proclaiming that Jesus was here.
With a light like the sun sending forth a bright ray
I knew in a moment this must be The Day!
The light of His face made me cover my head
It was Jesus, returning just like He had said.
And though I possessed worldly wisdom and wealth
I cried when I saw Him in spite of myself.
In the Book of Life which He held in His hand
Was written the name of every saved man.
He spoke not a word as He searched for my name;
When He said "It's not here" my head hung in shame.
The people whose names had been written with love
He gathered to take to His Father above.
With those who were ready He rose without a sound
While all the rest were left standing around.
I fell to my knees, but it was too late;
I had waited too long and this sealed my fate.
I stood and I cried as they rose out of sight;
Oh, if only I had been ready tonight.
In the words of this poem the meaning is clear;
The coming of Jesus is drawing near
There's only one life and when comes the last call
We'll find that the Bible was true after all!

A Christmas Prayer

Loving Father, help us to remember the birth
of Jesus, that we may share in the song of the angels,
the gladness of the shepherds, and the worship of the wise men.

Close the door of hate and open the door of love all over the world.
Let kindness come with every gift and good desires with every greeting.

Deliver us from evil by the blessing which Christ brings, and teach us to
be merry with clear hearts.

May the Christmas morning make us happy to be Thy children,
and the Christmas evening bring us to our beds with grateful thoughts,
forgiving and forgiven, for Jesus' sake. Amen!

*Robert Louis Stevenson



I Said A Christmas Prayer For You
I said a Christmas Prayer for you, Because the season's near.
I didn't ask for riches, but for gifts so much more dear.


I asked for joyful gatherings, with your family all round,
And for carols to inspire you, with their old familiar sound.

I asked for quiet moments, in your heart on Christmas morn,
For a special time to celebrate, the Savior who was born.


I asked for friends to send their best, that you might know they care;
I asked for peace and love and hope, and I know God heard my prayer.
~author unknown~




THE TWELVE DAYS OF CHRISTMAS
The partridge in a pear tree was Jesus Christ.
Two turtledoves were the Old and New Testaments

Three French hens stood for faith, hope and love.
The four calling birds were the four gospels of Matthew, Mark, Luke & John.

The five golden rings recalled the Torah or Law, the first five books of the Old Testament.
The six geese a-laying stood for the six days of creation.

Seven swans a-swimming represented the sevenfold gifts of the Holy Spirit: Prophesy,
Serving, Teaching, Exhortation, Contribution, Leadership, and Mercy.

The eight maids a-milking were the eight beatitudes.
Nine ladies dancing were the nine fruits of the Holy Spirit: Love, Joy, Peace, Patience,
Kindness, Goodness, Faithfulness, Gentleness, and Self Control.

The ten lords a-leaping were the Ten Commandments.
The eleven pipers piping stood for the eleven faithful disciples.
The twelve drummers drumming symbolized the twelve points of belief in The Apostles' Creed.


Contributors to this newsletter:
THE HOLY SPIRIT


And all of your prayers and encouraging words
BE SURE TO VISIT THE MINISTRY'S OTHER WEBSITES
http://onechosen.wordpress.com/
http://thetimesofrefreshing.wordpress.com/
chos91.wix.com/shearon-hurst

http://pinterest.com/ladyshearon/.com
ALSO FOLLOW ME ON FACEBOOK AND TWITTER
https://www.facebook.com/ShearonHurstBooks
Twitter - @LadyShearon